Keys and chords, Belgium magazine/website 22/1 - 2020 (Origo 2019)
"The influence of pop, jazz and electronics makes the music of Kaja contemporary and very emotional. Nice, very nice!"


Belgian Folkcorner Den Appel (Origo 2019)
"This results in very sincere, subtle, occasionally minimalistic acoustic musical landscapes, in which it is very pleasant to stay."
- Bart Vanoutrive

F-Roots (Rust 2010)
"Gorgeous.../... by Gothenberg trio of Livet Nord's masterly, rich-toned violin, Camilla Åström's equally inventive accordion or piano and Daniel Wejdin's double bass. Beautifully, sometimes akin to the velvety sound of Poland's Kroke."
– Andrew Cronshaw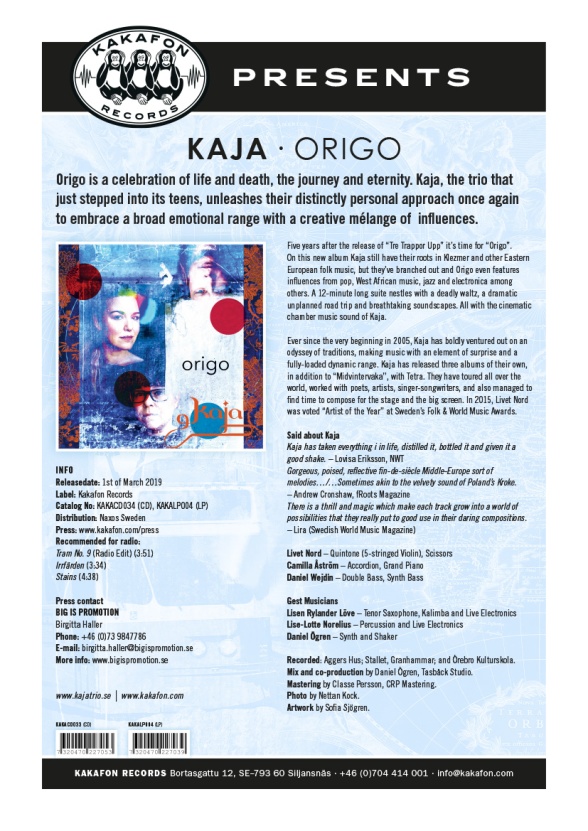 Kaja is supportet by the Swedish Arts Council, Kulturrådet.
CONTACT
Livet Nord
Ph: +46(0)704414001
E: nordlivet@gmail.com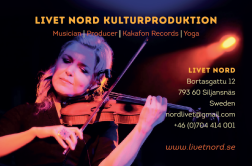 Kaja's former release (2013) - Tre Trappor Upp – treats you to their own particular brand of daring and dazzling chamber folk, full edgy twists and turns. Always partial to East European folk music, over the past ten years Kaja has also forged their own musical language by layering on more and more dimensions. Their eclectic blend has evolved into a genre of its own: A fusion of klezmer, tango, Swedish traditional, French waltzes, cinematic art music and improvisation spiced with fresh influences from American folk music, acoustic club music and Indian ragas. Building on the strengths evident on their critically acclaimed second album, Rust, their sound has continued to mature and more space has been given to improvisation. The magical sleeve art is the work of Yusuke Nagano. And if you buy the LP version of Tre Trappor Upp, you will also get nine poems – one for each track – written by the uniquely talented Olivia Bergdahl.

Katalognr: KAKACD016 /KAKALP001
Label: www.kakafon.com
Distribution: www.naxosdirect.se